Aug 05 We Are MOPAR 2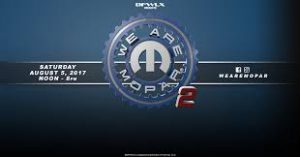 The NTVOA has a group attending the We Are Mopar 2 Car Show, we'd love to have all VOA members join us!
They would like us to be ready to go in Saturday August 5th at 10:00 am they want us to meet at the Express Parking lot at 9:45,  some of us are trailering their cars and that is where they want us to unload and leave our trailers. We don't know much about where there are having us park, but the event coordinators tell us it's a great spot! If you can not be ready to go in at 10:00 please let Wayne know before hand. Below is the link with a map of the parking area. If you know anyone I left out please let me know.
Please see below for information regarding the event:
CALLING ALL MOPAR owners! Unite and celebrate your Mopar community by taking part in our gathering. Whether your Mopar taste is vintage, modern, performance or cosmetic… WE ARE MOPAR is the place for you. Media coverage is being provided by David StFrancis, Fasty's Garage, Moparian, Doc Fluty Automotive Photography, Chrysler Power Magazine & Modern Mopar Magazine, and others!
JOIN US for the WE ARE MOPAR show hosted by DFWLX! This year to be held at Texas Motor Speedway, the great american speedway in Fort Worth, Texas, on Saturday August 5, 2017, from 12pm-8pm
.
Show your support by committing to the event and registering before we SELL OUT! 985 Mopar's Registered for our inaugural event! Let's see where this year takes us!
What: We Are Mopar Car Show
When: Saturday, August 5th / 12PM-8PM
Where: Texas Motor Speedway
www.WeAreMOPARshow.com
#MOPARorNOcar
Mopar Showdown Presented by Dallas Dodge of Texas
Show Details:
ALL Mopar gathering
Judged Car Show
FCA Brand Supported
Brand Representatives on site
Special Guests
Custom Metal Fabricated Awards
Vendor Midway
Hottest DJ in Town
Music/Announcements
Top Brands and Vendors
Baddest MOPAR Builds
Charity Prize Raffles
Countless Giveaways
MOPAR Track Laps (Details Pending)
The Return of 'Friday Night Lights' on Friday, August 4th
FNL Presented by Oracle Lighting
Drone Photography / Videography
Ultimate Infield experience at TMS